Meet the Scientific Committee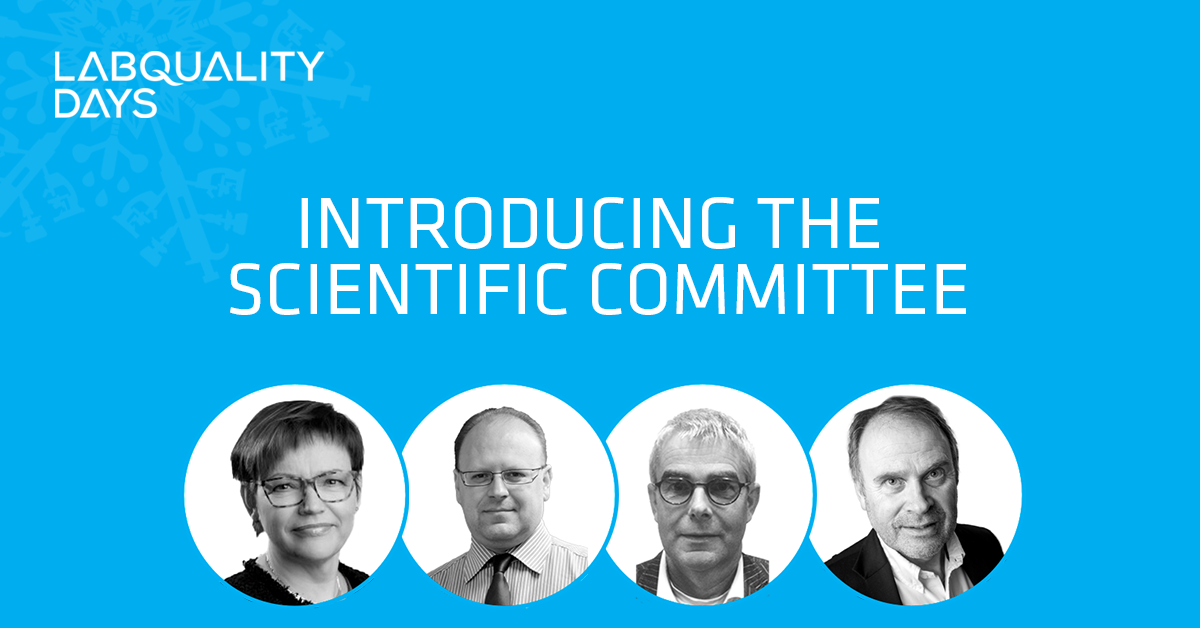 How does the scientific programme of an international congress come together? At Labquality Days, the international programme covering Quality in Laboratory is planned by the congress Scientific Committee. Get to know them here!
This year, Quality in Laboratory will cover the sub-themes of measurement uncertainty, interpretative EQA and green labs.
---
Päivi Laitinen, Chair of the Scientific Committee
Päivi Laitinen, PhD, EuSpLM, Adjunct Professor, has been the Chair of the Scientific Committee for over five years now. She has diverse experience working in different university hospital laboratories and a central hospital laboratory. In addition to her vast education and experience in clinical biochemistry, she also holds a Master of Health Sciences with a major in healthcare administration. Her national and international activities include memberships in several boards such as the Finnish Society of Clinical Chemistry, the European Communities Confederation of Clinical Chemistry (EC4), and the International Federation of Clinical Chemistry (IFCC) to mention only a few. She has published over 60 peer-reviewed articles, previously in the area of prenatal screening and more recently she has focused on publications of the EFLM Working Group on Cardiac Makers of which she is the Chair.
Labquality highly appreciates the commitment by Päivi Laitinen as the Chair of the Scientific Committee of Labquality Days. Her knowledge of the field of laboratory medicine together with her efforts to develop a high-quality scientific programme for the congress together with all the members of the Scientific Committee has each year resulted in an excellent programme that we are very proud to present.
How does the Scientific Committee choose the topics for the sessions?
Päivi Laitinen: We try to find interesting and current topics for each year. We follow trends in literature, and what is important today and in the future. We try to find the best speaker and the best specialist for each topic. The committee members have a huge network in the field, which is helpful. First, we collect ideas and brainstorm with even wild ideas. Then we look at topics that will best fit to form one uniform program.
What are your expectations for next year's congress?
Päivi Laitinen: We have a very interesting programme, as always, and excellent speakers. I expect that we will have a good attendance of international guests. Welcome to the congress!
---
Dalius Vitkus
Dalius Vitkus, PhD, EuSpLM, Associate Professor at the Institute of Biomedical Sciences of the Faculty of Medicine of Vilnius University, Head of the Centre of Laboratory Medicine of Vilnius University Hospital Santaros Klinikos, Lithuania. Dalius Vitkus is also a Member-at-large of the European Federation of Clinical Chemistry and Laboratory Medicine (EFLM) and President of the Lithuanian Society of Laboratory Medicine, a member of the Scientific Committee of the European Organization for External Quality Assurance Providers in Laboratory Medicine (EQALM), Chair of the Performance Specification Working Group of EQALM. His scientific interests focus on Quality Management in Clinical Chemistry and Laboratory Medicine, External Quality Assessment (PT/EQA), Enzymes and Protein Biomarkers, and Teaching and Postgraduate Training in Laboratory Medicine.
Labquality is proud to have close cooperation with Dalius Vitkus in several areas of EQA as he acts as the Scientific Advisor for Labquality. In addition, he acts as a Scheme Expert which has resulted in several mutual scientific projects.
---
Piet Meijer
Piet Meijer, PhD, Director of the ECAT Foundation, a global provider of external quality with a focus on thrombosis and haemostasis, the Netherlands. Piet Meijer is a member of several national and international societies in the field of thrombosis and haemostasis and external quality assessment. He is an expert member of the EQALM/EFLM Post-Analytical Working Group. He chairs the ICSH (International Committee of Standardization in Haematology) guideline group on Factor VIII and IX inhibitors. He is the International advisor for the ProMeQuaLab project (quality improvement in medical laboratories in Portuguese-speaking developing countries). In addition, he is a member of the IFCC Working Group on PT/INR Standardization.
Labquality wants to congratulate Piet Meijer on receiving the Adam Uldall Award 2022. The award is given during the EQALM Annual Symposium and goes to a person who has spent much of his/her career pursuing better quality across laboratory medicine and who is a well-known and respected international advocate on quality.
---
Elvar Theodorsson
Elvar Theodorsson, PhD, Professor, Linköping University, Sweden. In addition to his focus on studies of neuroendocrinology of regulatory peptides and steroid hormones, Elvar Theodorsson is very engaged in metrology. He is a member of the JCTLM Working Group on Traceability: Education and Promotion (WG-TEP) and a Swedish national representative to Eurachem. He has also served as president of the section and of the board of U.E.M.S. Medical Biopathology and as Chair of the Scientific Committee of EFLM. Elvar Theodorsson does consultant work in general clinical chemistry, endocrinology, haematology and quality management and is active at the Clinical Chemistry division of the Department of Biomedical and Clinical Sciences in Linköping.
Labquality values the many interesting topics and speakers suggested by Elvar Theodorsson as a member of the Scientific Committee. In addition, he has served as an excellent moderator of panel discussions, and we hope that he will engage in this role in the future as well.
---
The International Congress on Quality in Laboratory Medicine and Health Technology – Labquality Days will be organised in Helsinki, Finland, on 9-10 February 2023.