The biggest laboratory and medical device congress in the Nordics is fast approaching!

We are extremely excited to be able to organise Labquality Days, the international congress on quality in laboratory medicine, in person this year.
Because of COVID-19, the previous congress was held completely online in 2021, but from 20 to 21 April 2022 we will be able to enjoy the inspiring congress atmosphere in the capital of Finland, Helsinki
As there are no longer any restrictions on public events, we can organise an event that's bigger and better than ever!
What can you expect from the event?
Labquality Days is one of the largest annual international congresses in Scandinavia focusing on quality in laboratory medicine and medical devices. In 2022, the main themes for the scientific programme are quality in laboratory and developing health technology, so there is plenty for you to explore and learn whether you work in the laboratory field or health tech.
Read more about what the themes have to offer below.

Quality in laboratory
In this session, you'll get the chance to hear speeches from top international laboratory experts. James Westgards, Sverre Sandberg, Mario Plebani, Christa Cobbaert and Tony Badrick will all be speaking in the session covering the past and future of EQA and QC.
The session quality control and EQA in different disciplines will offer an insight into different perspectives, such as the quality control of preanalytics and quality control in developing countries.
Additionally, quality will be covered from the regulative perspective in the regulation and quality systems in laboratory medicine session.
Developing health technology
In the health technology sessions, you will hear speeches from top experts in the health tech field. In the IVDR session, the talk will concentrate on the current regulatory change that is affecting many laboratories that manufacture their own in vitro diagnostic medical devices.
Additionally, the good usability of medical devices will be discussed in the creating good usability session.
Two separate sessions will cover the digital future from the perspectives of cyber security and artificial intelligence. Koen Cobbaert will be giving two speeches on artificial intelligence, and you can read his interview here.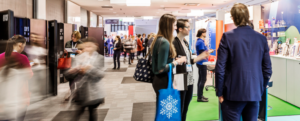 What else does the event offer?
The Labquality Days exhibition consists of diagnostics, healthcare and laboratory companies and offers an excellent opportunity for congress visitors to get to know a variety of companies and hear about their new services and products.
In addition to the scientific programme, we want to offer visitors a chance to socialise and network. With the networking tool found in the event mobile app, you can contact other congress visitors and organise a meeting over a cup of coffee. At lunch and during the evening events, we will serve you a selection of high-quality Finnish food.
Can you not make it to the live event in April?
No worries! In order to offer everyone the chance to attend these high-quality lectures even if you have work commitments and cannot make it to Helsinki, we have created new products. You can buy lecture recordings that you'll be able to watch for three months after the event.
That means that you can see the lectures whenever and wherever, and you won't miss out on this excellent opportunity to educate yourself and learn from the top experts in the laboratory and health tech fields.